In
Hokkien
, "
Chiobu
" translates to "Girl". Well, I'm not referring to the immature,
prepubescent
sort. Put it this way,
Chiobu
translates to "Female". That sounds better. Ever had your eye on that gorgeous
chiobu
?
lol
. Here are some
ChioBus
(plural of
Chiobu
) that I think are HOT, scratch "HOT", I prefer the term "vaguely yet extremely attractive", lol. =]
i)
Colbie
Caillat
(coal-bee
kuy
-lay)
Colbie
Marie
Caillat
, daughter of Ken
Caillat
who is/was also a producer for the band
Fleetwood
Mac, born in California on the 28
th
of May, 1985. This 22 year old exploded into the music scene with her album "Coco". Her single "Bubbly" is currently on airwaves and radio
stations
.
ii) Katharine McPhee
Katharine Hope McPhee, the 23 year old hailiing from California. She has Irish, Scottish and German heritage and was discovered on the ever popular American Idol. She finished 2nd behind Taylor Hicks in the 2005 season of American Idol. Ms Gorgeous here isn't only nice on the eyes, heck she's nice on the ears as well.
iii)Katherine Heigl
Katherine Marie Heigl who has had an eventful career was born in Washington D.C on the 24th of November 1978 - meaning she's 29 this year.(for those of you who are too lazy to calculate her age =P). She used to be a fashion model and used to have a brother. In 1986, her 15 year old brother died in a car crash.
iv) Emma Watson.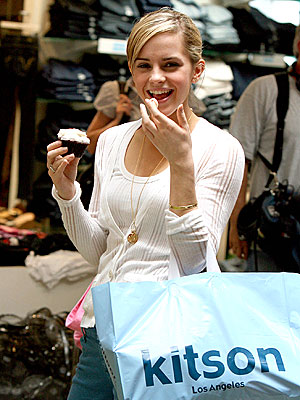 Emma Charlotte Duerre Watson, 15 April 1990(Yess, I'm older =P), infamous for her roles as Hermione Granger in the Harry Potter saga. She was born in Paris and enjoys hockey and debating. Emma also has a certificate which allows her to scuba dive anywhere in the world. She also passed her first driving test on January 28th 2008. And she is HOT!
That took ages to complete. Enjoy.
They are beautiful and gorgeous but you are perfect,
ColiNgeow.